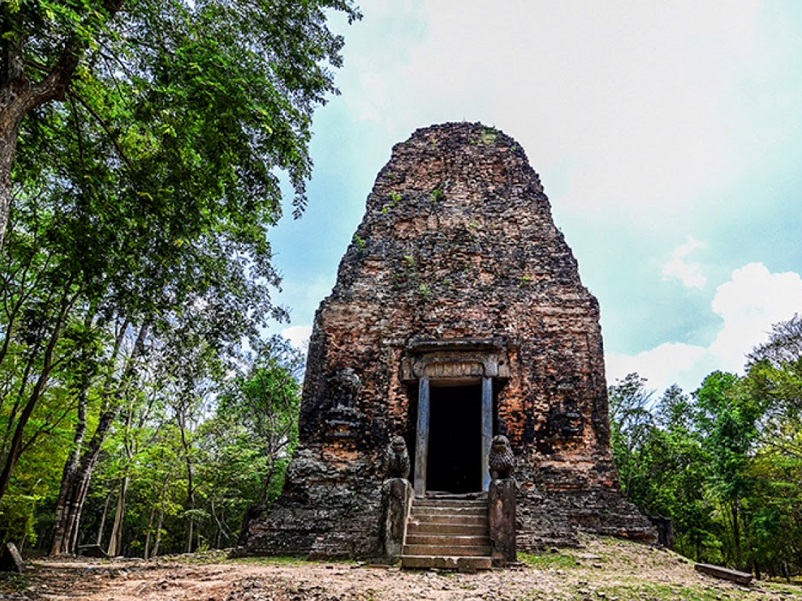 Family Holiday – Two Weeks in Cambodia with Kids
Cambodia
is one of Asia's most charming countries. It is a fascinating country to visit and to discover its beautifully precious culture, traditions, architecture, and history. Travelling with kids to this country for a family holiday is one of the best experience you can offer them. However, due to the complicated on-the-ground logistic involved with such a trip, it may be a bit difficult to arrange on your own. This is where we come in, by contacting us to organize your family holiday, we will save you the headaches and time and guarantee the quality of your experience. Here are some ideas for a two-weeks itinerary to help you get the most out of your holiday in Cambodia: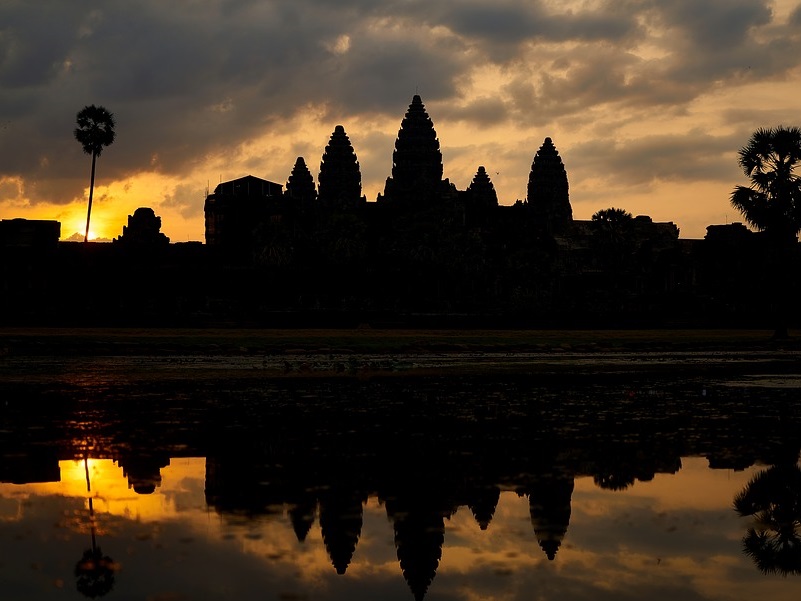 The ever famous Angkor Temples taken at sunset.
Siem Reap (4 Days)
Depending at what time you arrive, you might be able to wander around Siem Reap on your first day to get accustomed to your new surroundings before your adventure begins the following day. Siem Reap serves as a perfect introduction to Cambodia, especially to families. Its size is akin to a big village, making it easy to set off and explore on your own to get your bearings. It also has a wide array of family-friendly activities which will keep the entire family engaged.
Child-friendly Activities in Siem Reap
– Khmer Ceramic – Pottery Class – Cooking Class – Phare Circus*** – Apsara Performance and Dinner*** – Kulen Waterfall – Rehash Trash – Angkor Temple Tours*** – Mini Golf – Angkor Wat Putt – Floating Villages*** – Family Countryside Biking – Royal Archery Club – Angkor Gibbon Spotting Experience***
*** – Our recommendation
During the planning process, it will be up to you to choose what is best for your family. However, we usually recommend starting with the Floating Villages followed by an Apsara Performance on the first day and capping things off with a visit to the famous Angkor Temples on the last day in Siem Reap.
Families visiting Siem Reap ought to spend a day at Kulen Mountain.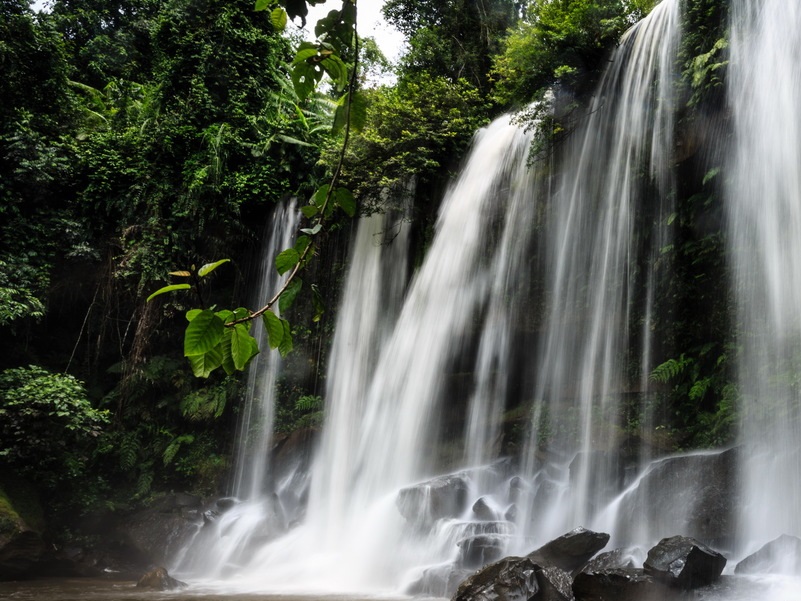 Kampong Thom – Sambo Prey Kuk (1 Day)
Located roughly 25 kilometres northeast of Kampong Thom, Sambo Preykuk is known as a cultural and historical site that was once an old capital named Isanapura and a religious centre for the worship of Shiva Brahmanism. The temple visit is very much worth a stop before you carry on your journey somewhere else.


Kratie – Dolphin (1 Day)
Kratie, known as the Home of the largest group of fresh-water Irrawaddy Dolphins and also for some nice-looking homes of French and Khmer style scattered in the town It is a great spot for kids to enjoy watching this rare creature and learning some culture and architect.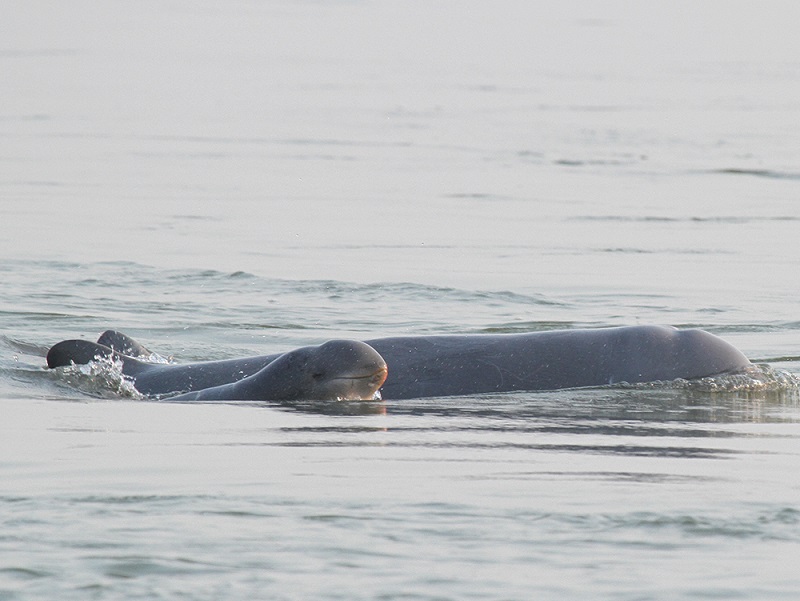 Kratie is one of the few places in the world where you can see the rare Irrawaddy Dolphins.
Mondulkiri – Elephant Sanctuary (2 Days)
Mondulkiri is a well-known home to Asian elephants and the Bunong minority tribe. Spending 2 days in Mondulkiri is a must to experience all it has to offer, enabling you to spread a day with the Must-Not-Miss elephant sanctuary and ending your day with a BBQ dinner at Bunong minority village. Next day, visit the impressive Bou Sra Waterfall and get on the Zipline, crossing the waterfall is quite astonishing.


Phnom Penh Capital (2 Days)
Upon arrival at the capital of Phnom Penh, there are many interesting sites. Here you have two choices, either stay for only one night and carry on the trip to the beach, recommended below, and after the beach, you could stop in PP for your last night before your departing flight. You could, however, enjoy two days in Phnom Penh and move on to other destinations later. Kids-friendly Sites – Royal Palace – National Museum – S-21 & Killing Field (if your kids are old enough to learn the terrifying history of the genocide) – Phnom Penh Boat Cruise – Evening Food Tour – 2 hours Cyclo Tours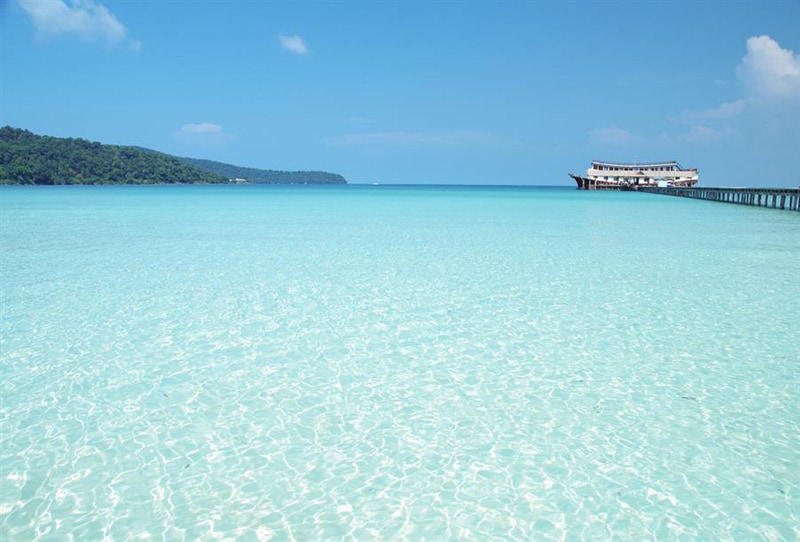 Spending a few days on the beach is the perfect way to end any trip!
Beach Time (4 Days)
After long-distance travelling, here is where you and your family could completely unwind and relax. We suggest that you take the speed boat to Koh Rong Samloem; the normal wooden boat takes 2 hrs from the mainland as opposed to 30 minutes. In our opinion, 4 days on the island is needed as any less than that would be too short. Upon your arrival at the beach, you will have plenty of time to explore and have fun. Lying on the beach reading a book, listening to the sound of the beach waves, get a beach massage, jump on a motorboat, go fishing and snorkelling. These are some of your options. With your holiday, coming to an end the journey on your last day will take roughly about 4 hours to Phnom Penh International Airport. You will then wave goodbye to Cambodia. To arrange all these two weeks trip going smoothly according to the plan, you will need to spend more time and energy with knowledge of the country plus to choose the right people to look after your family while you are on the road. To make things easy,
enquire
with us and let us know your plan, we listen to what you want and then come up with the best suitable shoes for your family.