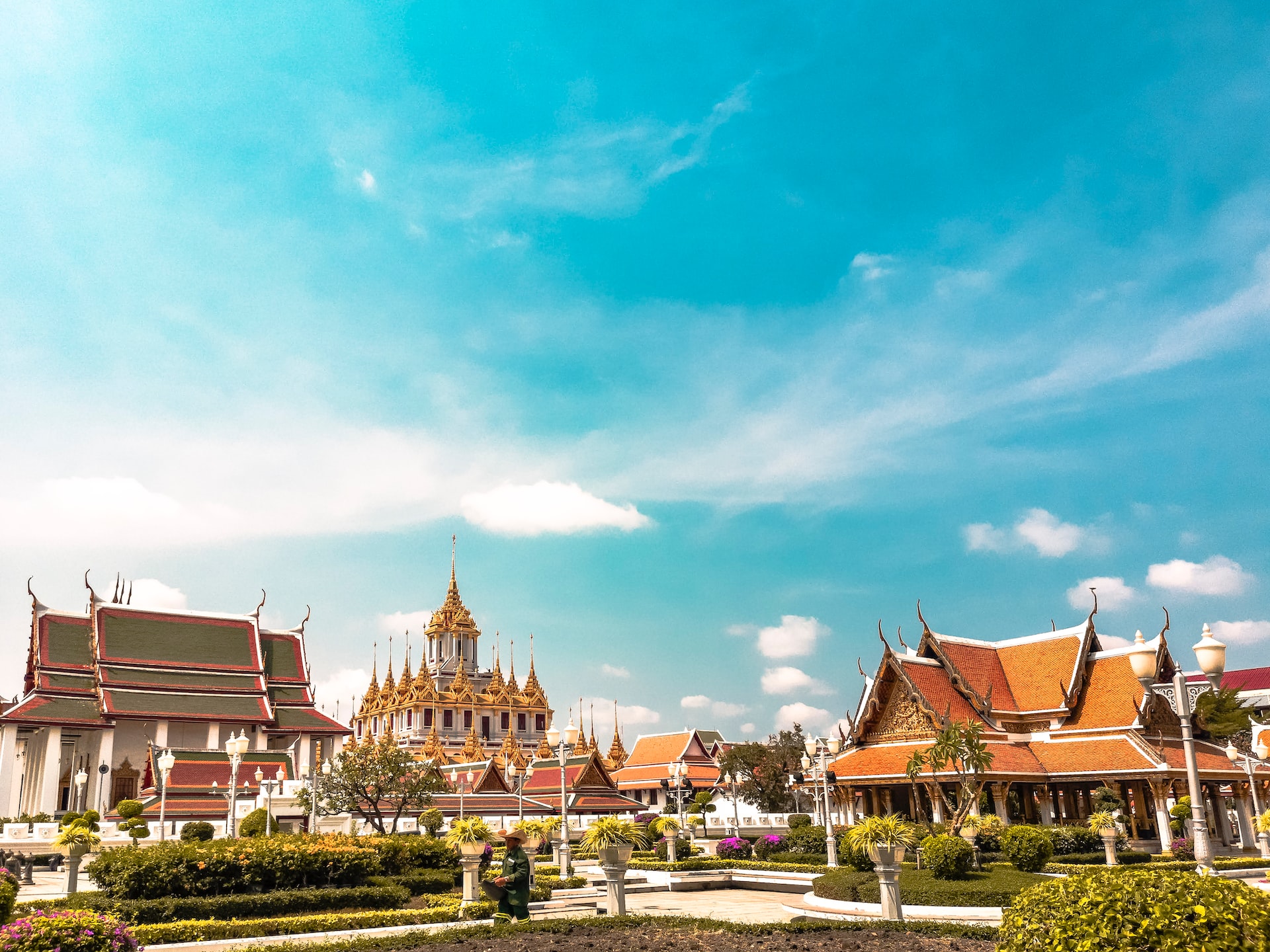 Bangkok is Thailand's capital city and one of the coolest places in the world to visit. Of course, when you look at the city temperature-wise it is actually one of the world's hottest, according to the World Meteorological Organisation, with average temperatures reaching 34 degrees Celsius during the warmest periods of the year! This city is home to many cultural traditions, like the recital of the Thai National Anthem which happens twice every day as well as before any plays and films. During this time, it is illegal to not stand up, so be respectful and follow the lead of the locals if you are ever in that situation!
As you can tell, Thailand, and notably Bangkok, takes its culture, religions and traditions very seriously. The city boasts some pretty incredible temples which you are free to visit as long as you are polite and show respect in the spiritual spaces. Below we will introduce you to some of the city's amazing temples as well as a few things that you should keep in mind while you are there. Although you are permitted to bring bags into the temples, it is a good idea to keep them safe and out of the way at a Bangkok luggage storage locker.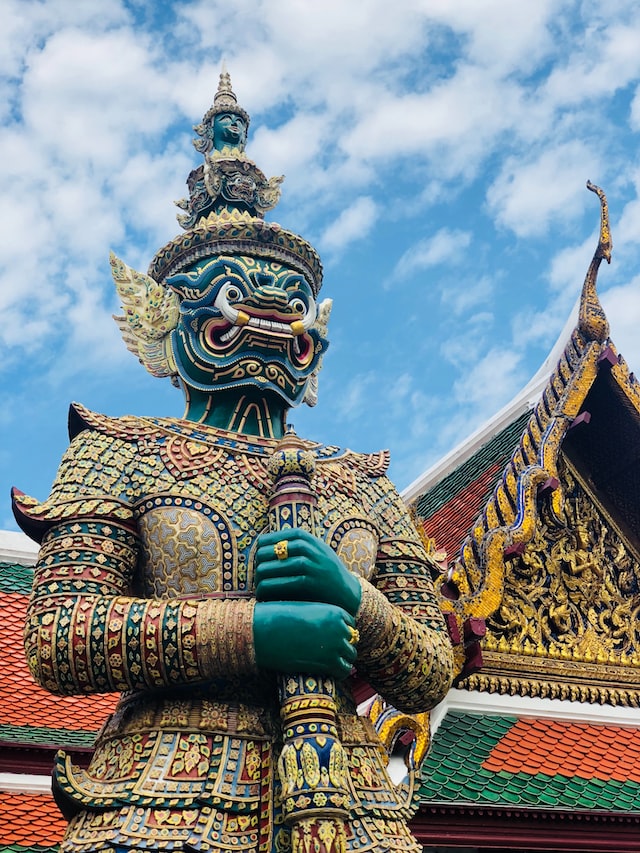 Before we introduce you to some of the beautiful Bangkok temples, you should do some research on what to wear and how to act in these sacred spaces.
⦁  Be Mindful Around Buddha Images and Statues
Anytime that you are around a Buddha image or statue in a worship area you should follow these rules; firstly, take off your shoes, hats and sunglasses. Do not step on the door threshold, don't point your hands or feet at the Buddha or any monks, and do not put your head above the Buddha or monks. Be quiet and do not speak too loudly or be unruly and walk around pillars and sacred objects in a clockwise manner. Furthermore, if you want to sit in front of the statue you should sit with your legs tucked underneath you. When it is time to leave you should step back a few steps and avoid turning your back to the statue.
⦁  Take Photos Politely
If you want to take some pictures inside the temple you are allowed, unless stated otherwise. However, it is very rude and extremely frowned upon to turn your back and take a selfie with a Buddha statue; this is a common mistake among tourists so don't be one of those people! Also, do not take photos of devoted locals who are praying, and if you want to take a picture of a monk you should ask first.
⦁  Pay Attention to How You Dress
One of the most important things to be aware of when visiting temples is to dress modestly. In general, you are free to wear what you want, as long as it is appropriate, and you are covered. Namely, your shoulders and knees should be covered and, although shorts or skirts are allowed, some of the more significant temples as well as the Grand Palace require full-length skirts and pants to visit. Tight-fitting active-wear is usually too revealing so be cautious.
⦁  Avoid Certain Behaviours
Lastly, there are certain activities that are not deemed appropriate in temples. This includes drinking of any kind, snacking, smoking, chewing gum, kissing or any other public displays of affection. It is important to note that women are forbidden from touching monks or their robes in any way, so give them space and if you need to hand them anything it should be placed down for them to pick up.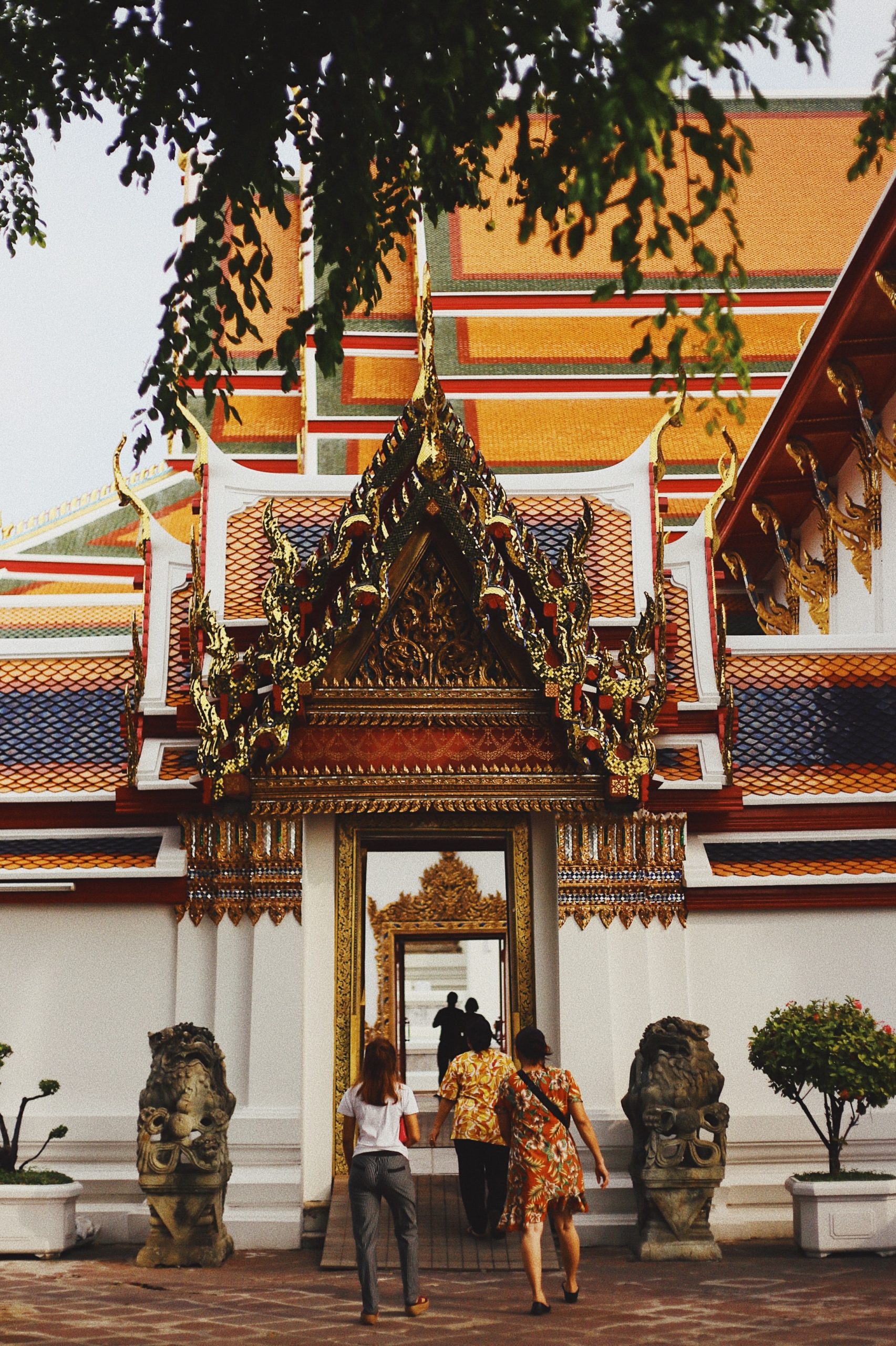 There are over 40,000 temples in Bangkok and at least 30,000 of them are still in use! We obviously can't write about them all, but here are a few that you should check out.
⦁  Wat Pho
Beginning our list with one of the most famous temples in Bangkok, Wat Pho is definitely a place that you won't want to miss seeing. It is home to the 45m by 15m Reclining Buddha statue which features feet and eyes engraved with mother-of-pearl. There are some beautiful Thai murals and ancient Chinese sculptures, like lions and warriors, inside the temple.
⦁  Wat Phra Kaew
This next temple is located on the grounds of the Grand Palace and is absolutely stunning. It houses lots of prized artifacts, including the Emerald Buddha, which was allegedly discovered in the 15th century in the Lanna Kingdom of Northern Thailand. It was moved between temples many times at the request of new rulers and was eventually brought to Wat Phra Kaew by King Rama I.
⦁  Wat Arun
Wat Arun, also known as the Temple of Dawn, might seem familiar to you since it is the image featured on the 10-baht coin! The ceramic tiles and colourful porcelain accents are gorgeous, and on the stupas, you might notice decorations like seashells and Benjarong dishes from China. On site there are also various sculptures of Kinnari and Garudas as well as Tossakan and Sahatsadecha, the two temple guardians.
⦁  Wat Saket
Wat Saket is sometimes called the Temple of the Golden Mount because of its large, golden stupa that will catch your eye before you even reach the temple. The temple houses a library, a chapel and an ordination hall that displays some beautiful Buddhist paintings. If you climb the 300+ steps up the artificial hill, you will be rewarded with incredible views of the surrounding area as well as the tallest Buddha statue in the city which dates back about 700 years to the Sukhothai era.
⦁  Wat Traimit
The Wat Traimit temple, located in Bangkok's Chinatown, used to be a simple worshiping place for locals until it was renovated in 1955. As the renovators were working on the building, they accidentally dropped a large piece of stucco and plaster, and inside it a huge gold Buddha statue was revealed. This statue, at 5m tall and weighing 6 tonnes, is the world's biggest Buddha statue made completely of gold. It has held the title in the Guinness World Records since 1991 and today its value is estimated to be at least $250 million USD!
Bangkok's Beautiful Temples
Although it can seem like there are a lot of rules to keep in mind when you are visiting the Bangkok temples, there is no need to worry. As long as you do your best, are polite and do not deliberately disrespect the religion and traditions, the monks and locals of the city will welcome you into these places and will even be happy to talk and explain their customs to you. There are also guided tours that can help educate you on the practices and the temples themselves.